Back to all posts
Posted on
Carseland School Student Honoured with Honourable Mention in Indigenous Student Awards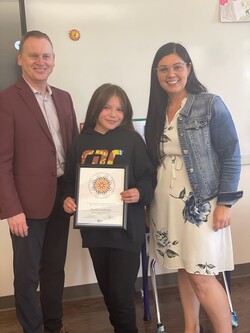 Golden Hills School Division and Carseland School are proud to announce that Mirabel Goodstriker is being recognized with an honourable mention for the Alberta School Boards Association (ASBA) 2022 Honouring Spirit: Indigenous Student Awards.
ASBA was honoured to have received hundreds of submissions highlighting the deeply inspiring stories of the many bright, young students across the province.
Four Golden Hills School Division (GHSD) students are being recognized with an honourable mention certificate in recognition of their dedication and hard work.
We would like to recognize Allister Cutter from Wheatland Crossing School, Mirabel Goodstriker from Carseland School, Trinity Pretty Youngman from Crowther Memorial Jr. High School and Carson Doore from Strathmore High School, you are all helping pave the way for other students and have given them incredible role models to look up to.
Congratulations!