Back to all posts
Posted on
Healthy School Certified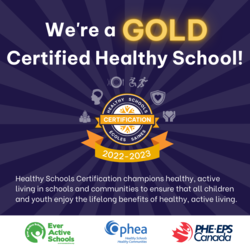 The Healthy Schools Certification program is a year-over-year program that supports school health planning and priorities surrounding well-being. 
To become a certified healthy school Carseland School chose to prioritize mental health and healthy eating as our priorities and designed a plan, created a team, and approached all school initiatives and programs with both priorities in mind. 
Programming such as Nature Connections, Ik Ka Nutsi, common wellness language throughout the school, a greenhouse lab, daily lunch program, farm to table menu items, in school mentoring, and so much more contributed to Carseland School's success of becoming GOLD certified.
We pride ourselves in offering the best educational experiences for our students, staff and community. We look forward to continuing our healthy schools journey to certification yearly!